The Advantage of Teamwork at Advantage Chiropractic & Rehabilitation in San Antonio. Dr. Otterman, a San Antonio Chiropractor, has put together a multi-discipline treatment team combining chiropractic, corrective exercise, rehabilitation and massage therapy which has produced greatly enhanced treatment results. This unique integration of health care and fitness professionals has given them insight into what it takes to get patients better and to stay that way.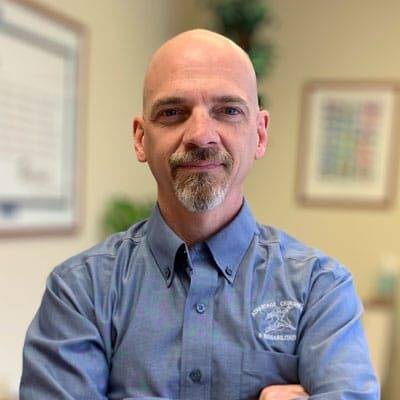 Chiropractor Gregory Otterman D.C.
Dr. Otterman "Dr. O" - Greg Otterman, D.C., F.I.A.C.A., C.E.S. is a Board Certified Doctor of Chiropractic and has been practicing in San Antonio for more than 26 years. To better serve the San Antonio community, Dr. Otterman has taken several hours of post-graduate training in the diagnosis and treatment of scoliosis, disc injuries...
... sports injuries, postural imbalances and corrective exercise training. The culmination of his training is evident in his unique chiropractic health center in san antonio which has integrated chiropractic, rehabilitation, massage therapy and exercise training.
Education:
Bachelor's Degree in Psychology, University of Kansas, 1989
Associate's Degree in Health Sciences, Donnely College, 1991
Doctor of Chiropractic, Cleveland Chiropractic College, 1994
Fellowship, International Academy of Clinical Acupuncture, 1994
Corrective Exercise Specialist, C.E.S., 2010
Certifications:
Certified, National Board of Chiropractic Examiners
Certified, Texas Board of Chiropractic Examiners
Certified, Scoliosis Bracing
Memberships:
Texas Chiropractic Association
Additional Training in Advanced Treatment Techniques:
Cox Flexion/Distraction (decompression of disc bulging and degeneration)
Providence Bracing (non-surgical scoliosis treatment)
Footlevelers Custom Orthotics (stabilization of foot and spinal imbalances)
Injury Rehabilitation, Posture Training and Fitness Exercise
Our Staff
Our team of assistants has a combined 30 years of experience in health care in San Antonio with an emphasis on chiropractic, corrective exercise training and injury rehabilitation. Together, they manage the front office, provide assistance to Dr. O, assist with marketing and coordination of patient care, provide rejuvinating massage and rehabilitative services. These ladies are warm and caring and you'll find their compassion and skill to be very comforting while under our care.
Monday
9:00am - 1:00pm
3:00pm - 6:00pm
---
Tuesday
9:00am - 1:00pm
3:00pm - 6:00pm
---
Wednesday
9:00am - 1:00pm
3:00pm - 6:00pm
---
Thursday
9:00am - 1:00pm
3:00pm - 6:00pm
---
Friday
9:00am - 1:00pm
3:00pm - 6:00pm
---
Saturday
Closed
Advantage Chiropractic and Rehabilitation: Gregory Otterman, DC
13133 NW Military Highway #300
San Antonio, TX 78231
Phone: (210) 308-7473